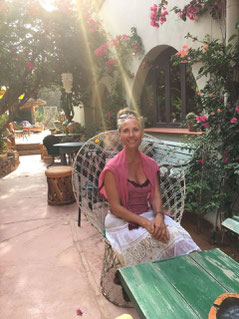 Today I would like to introduce the brand Tiara Mana. Tiara Mana is not only the brand. Tiara Mana means much more - a woman living in harmony with her body, soul and mind. She views human beings as an energetic entity that interacts with nature and the environment on all levels (physical, mental and emotional). Tiara Mana increases her vitality and confidence trough dancing, doing and offering meditation, jumping trampoline, hiking in nature and art. Meditation is a part of her life.
When this charismatic, emphatic woman entering a room, everybody around her is taken in by her aura. She radiates joy, friendliness, harmony, peacefulness, infinity and a special, natural manner of communication. It is not a matter what Tiara Mana does, whether she creates her masterpieces from fabric, dances or practises yoga, everything done by this great personality is perfect because it is done in a harmony and with the relaxation supported by her unique talent.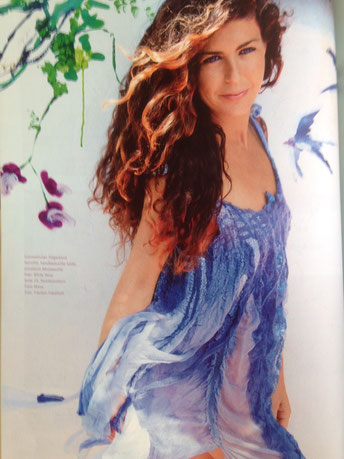 This special brand is characterized by unique technology of the garment and textile manufacturing invented by Tiara Mana. All the articles are made by hand in a German manufactory.
MANUFACTURING TECHNOLOGY
The manufacturing process includes combining of Merino wool with silk or knitted pieces with silk, treating them with olive soap and water, hooking or weaving them together into a single piece in the felting process. Therefore, some pieces of clothes do not have any seams. A three-dimensional design (pattern) of textile also appears in the felting process.
White and black colours of fabrics are not dyed at all. Another colours are dyed with pigments by hand. For this reason, every single piece of products manufactured by Tiara Mana is uniquely individual and custom-made. If you have these textiles, you can be sure, nobody else has similar ones. 
FABRICS
Let's have a look at the quality of used fabrics. For instance, the Merino wool is an extremely fine and soft fibre which is able to be bent far more than other coarser wool fibres. It also has higher elasticity that helps prevent garments from losing their shape.
Mohair yarn is a luxury fibre made from the wool of Angora goats (Angora wool actually comes from rabbits). It keeps warm in winter, due to its excellent insulating properties, while remaining cool in summer thanks to its moisture wicking properties. It is durable, naturally elastic, flame resistant and crease resistant.
Cashmere is a super-luxury fibre made from the soft undercoat of goats bred to produce the wool. It is soft, strong and gentle with your skin.
Silk Jersey is soft, stretchy, wrinkle resistant and sleek with a light to medium weight. It is ideal for skin-contact garments as this silk Jersey wicks away moisture while remaining breathable.
Silk Pongee is a thin and soft fabric of Chinese origin woven from raw silk. Generally it varies in weight from 36 to about 50gm/sq m. The fabric has a soft hand feeling and glossy fabric surface.

Chiffon is a lightweight plain-woven fabric with mesh like weave that gives it transparent appearance. It is soft and see through. The sensations of chiffon on your skin is enormously pleasant.
Silk tulle is used for the creation of wedding veils and deco due to the delicate nature of the fabric. It is available in several fine soft textures almost similar to the feel of fine hosiery.
Sophisticated dresses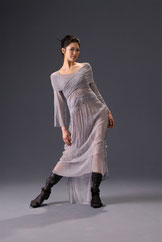 As you see, all of these brillant dresses have different silhouettes. Some of them are knitted without stiches  on the top and go harmoniously in silk or chiffon skirts. They are also decorated with three dimensional patterns like, for example, tissue flaps or flowers.
Additionally, gemstones  or Swarovski crystals can be integrated into dresses. Some clothing is supplemented with warm and stunning lamb fur dyed in a colour of a garment.
When you feel a fabric, you will perceive lightness and softness. When you try on such a dress, you will experience a sense of freedom and a                                            feeling of uniqueness.
Tiara Mana does not sew her dresses but Tiara Mana lives them and creates genuine masterpieces. Due to this her creation does not mean only an outfit. Moreover, these are a mindset and a lifestyle of Tiara Mara - harmonious, confident and innerly calm. 
Exceptional Wedding dresses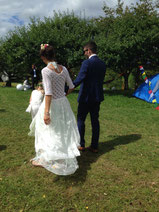 Tiara Mana creates also a wide range of wedding dresses with a diverse number of silhouettes. For instance, this dress with an A-line silhouette is narrow at the bodice, with compressed skirt parts that flow right down to a slightly flared-out skirt.
The knitted, thin and transparent top emphasizes successfully a figure and a waist of a bride, makes her more sexually attractive to her bridegroom.
Some wedding dresses can be supplemented with a wide shawl, which a bride can wear throwing on her shoulders or wrapping it around the waist instead of a belt. Therefore, any  bride having a wedding dress from Tiara Mana will look gorgeous, very gentle and become wanted by her husband.
The another advantage of this line of clothing is that a woman can wear this dress not only on her Wedding Day but also years later - going to the theatre, visiting her friends and relatives, going out for dinner and so on...
Elegant and creative Jackets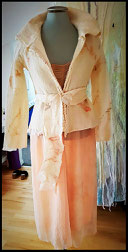 All the jackets are made from specially processed Merino wool and can be decorated with three-dimensional patterns. They do not have any seams because the parts of fabric are joined in the felting process. Thanks to this technology you can turn your jacket around and wear it as a entirely different jacket with an another pattern and colour. They are available with or without a hood and belt.
When you put it on, you will feel how light it is and how soft a fabric is. That is a raison d'être of Tiara Mana herself - to connect our body, mind and soul in order to keep energy flowing within us.
Exclusive Curtains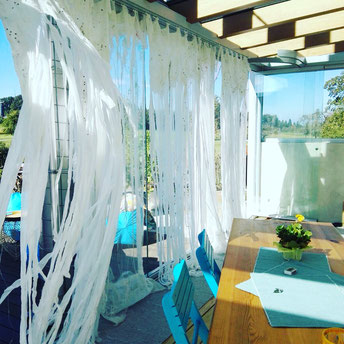 These weightless and extraordinary curtains look so appealing and light like a sunny personality of Tiara Mana herself. They are made of silk tulle, silk, chiffon mixed or not with Merino wool and have a falling down, circumfluent  form.
On a custom request they can be decorated with gemstones, Swarovski crystals, glass pieces and light chains. Light chains can be monochrome or have a wide coloured spectrum of gleaming lights alternating each other.
Marvellous patterns are kept on the both sides of curtains which means you can put them up where you like - on the window or in the middle of a spacious room.
Such curtains create a cosy atmosphere, unite your body, mind and soul with your  environment and generate a sustainable balance in your home or office, in a restaurant or hotel... They really reflect a harmonious character and consequently a reliable and creative way of working of Tiara Mana in order to brighten and pacify your day and night.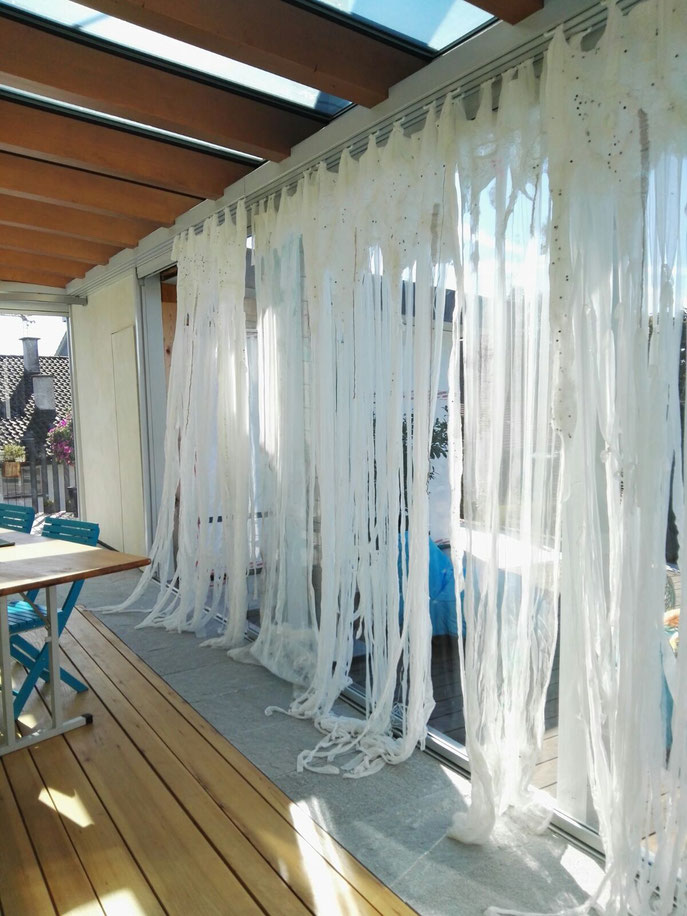 Magical Pillows
Here is an example of decorative pillows from Tiara Mana... Throwing them casually on your sofa, bed or chair you will not only enjoy a wonderful design but also experience a subtle touch of comfort.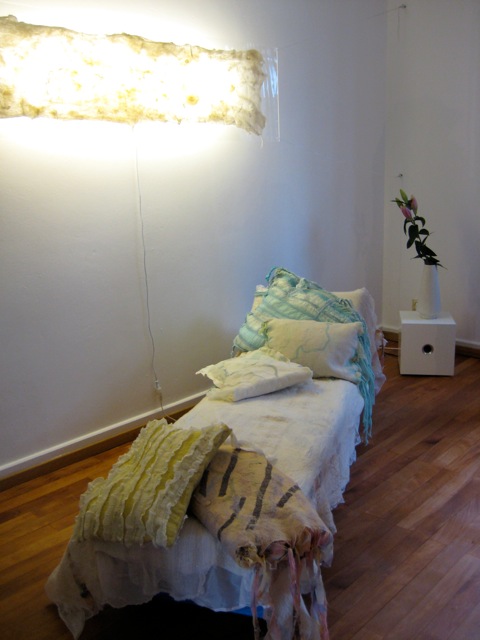 Exceptional Wall Decoration
The elaborate and refined wall decorations from Tiara Mana are very varied. They can be coloured or white, very thin and transparent with some tender patterns or they can be thicker and warmer made from Merino wool... 
These works of art are an individuality of Tiara Mana herself. Even patterns portray a mind, heart and soul or include words "Relax", "Love", "Trust", names of your children. With gemstones, glass pieces and lighting they create a healthy ambiance and authentic interiors even for sophisticated customs.
Admiring them you will sensate the aura of their gifted creator Tiara Mana all the time - her balanced lifestyle full of lightness, hovering in dancing and relaxation during her yoga exercises.
How to order?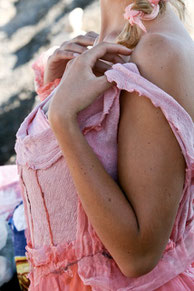 All the products of the brand Tiara Mana are made in Germany.
They are manufactured by hand and exist only as a single exemplar because of that they are quite unique and very special.
To order a custom-made garments, curtains, wall decorations and so on, you do not really need to visit Tiara Mana in person. You can send your measurements or if you order clothing, some pieces of clothes which suit you perfectly.
Textile care must be made by hand. Products are very durable and can be used for years.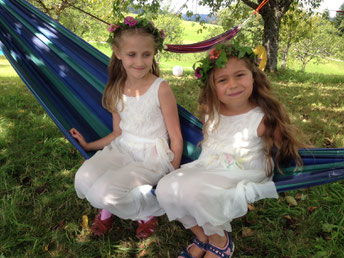 The product range comprises:
      I. Clothing:
Men's Jackets

Coats

Dresses

Wedding Dresses

C

hildren's Clothing

Outfit for Yoga
  II. Decorations for your home, office, restaurant and hotel:
Curtains

Wall Decorations

Pillows
If you like to order some custom-made products of the ingenious brand Tiara Mana, please let's discuss your request with me by E-Mail:
Info@shon-stylish-healthy-organic-natural.com
or by cell phone: 0041 79 315 26 49.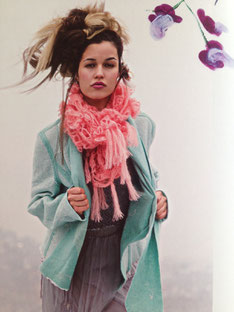 Let's try a balanced lifestyle of Tiara Mana by which you feel calm, grounded and motivated!
Whatever Tiara Mana does, she does this with an inspiration and creativity combining her huge talent with the fusion of soul, body and mind.
Heaving her products you will feel unique, balanced, peaceful and empowered. 
Live Stylish!
Stay Healthy!
  Eat Organic!
   Be Natural!