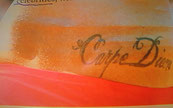 by Jack Malvern,
taken from "World and Press",
No 11, June 1, 2017.
"Latin has had a renaissance in tattoo parlours as people seek to emulate celebrities."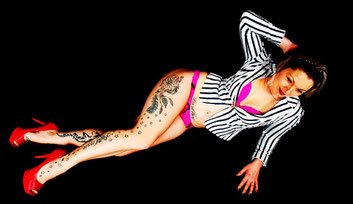 In the words of Seneca, Errare humanum est. The Roman dramatist and philosopher might have added that while to err is human, it is particularly likely among tattoo artists who try to bluff while inscribing Latin. The dead language has had a renaissance in tattoo parlours as people seek to emulate celebrities such as David Beckham and Angelina Jolie, but the yearning for classical language has come at a cost.
David Butterfield, director of studies in classics at Queens' College, Cambridge, was delighted when he first noticed that Latin had become the lingua franca of skin decoration. He offered a trnsaltion service and supplemented his salary by charging small fees. However, he will announce in the next edition of Spectator Life magazine that he has decided ti stop, for fear of fuelling a terrible trend.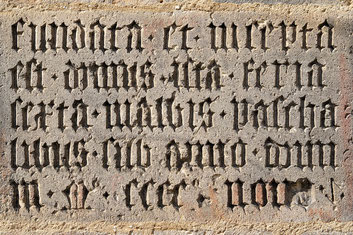 Although most people contracted him to ensure that their planned inscriptions were correct, Dr. Butterfield also had to let down gently those who were checking the ones they already had.
The lecturer, who has fielded about 1,500 inquiries since he began offering his services in 2007, said that although Latin lent gravitas, it was also tricky to get right. "When photographs were sent in for checking, it was often manifest that mistakes had been grafted in inch-high-letters," he said. "Latin is a language that leaves no wriggle room: when it is wrong, it is inescapably wrong, at best ungrammatical, atbworst gibberish."
Asked whether he had to be diplomatic when telling people about indelible errors, he said: "It was never worthwhile beating unduly about the bush: if a woman has got a self-referential tattoo describing her in the gender of a man, that needs raising, howerver gently the news is passed on. I would give the most optimistic reading of how their Latin could be interpreted, perhaps suggesting that it would pass for a school-boy's Latin in medieval Castle."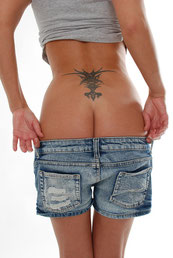 He noted that Beckham, who has ut amem et foveam (to love and cherish), had secured the correct translation, as had Jolie, whose belly is inscribed with quod me nutrit, me destruit (what nourishes me, destroys me).
He said that many people had made the mistake of trusting online translation services. He saw one attempt to translate the biblical verse: "I walk through the valley of the shadow of death" that included English interspersed with the Latin: Ingredior per valley of umbra of nex. In other cases, a translation appeared to have been put through a spellchecker so that "Love is the essence of life" was not Amor est vitae essentia but "Amor est vital essentiaL". ...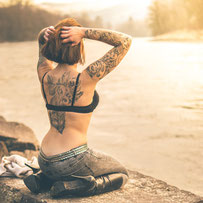 Do you have any tattoos on your body?
Are they in Latin?
Do you speak Latin at all?
Which kind of tattoos do you love?
Or why do you not have any tattoos?
                               Then, 
                                     Live Stylish!
                                    Stay Healthy!
                                     Eat Organic!
                                       Be Natural!