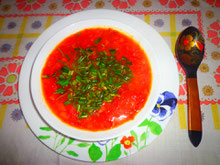 Borscht is a multicomponent soup which is technologically difficult to cook. The main constituent of any borscht is a beetroot or a sorrel in a green borscht. First of all, they create the taste, aroma and colour of borscht, and, therefore, borsch refers to vegetable soups.
Borscht has a lot of varieties and is cooked differently in each individual region. The difference in local varieties of borscht consists of the form of broth. Borscht is a traditional dish of Ukrainian cuisine.
Varieties of borscht

In general, borsch can be divided into three types:
Hot (red) - this kind of borscht is common in the kitchen of different peoples, especially popular it is in Russia and Ukraine.
Cold (red), which is cooked mostly in spring / summer.
Green borscht (hot) based on a sorrel cooked mostly in Ukraine.
Ingredients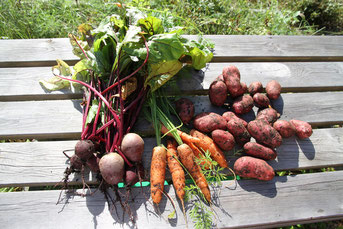 1 kg beef (with or without a bone)
10 cups water
500 g potatoes
300 g fresh cabbage
400 g beetroot
200 g carrots
1 can kidney beans with their juice
200 g onion
3 tsp. tomato paste
1 tsp. vinegar 
 2-3 cloves of garlic
 1 tsp. chopped dill
 2-4 bay leaves
 salt
 pepper
 vegetable oil
 sour cream to taste
Instructions
Cut the meat into small pieces.
Put the meat into water and cook it for 1.5 hours.
Chop the onions.
Grate the carrots on a medium grater.
Chop the cabbage into fine strips.
Cut the beets into thin strips.
Fry the beets in vegetable oil in a frying pan.
Add there vinegar and tomato paste. If the paste is too thick, add some water.
Stew everything for 5-7 minutes.
Fry the onions in vegetable oil in a different frying pan.
Add the carrots and fry them.
Cut the potatoes into cubes.
Add the potatoes into the boiling broth.
Salt it.
When the broth boils, add the cabbage.
Cook everything on a low heat for 5 minutes.
Add the beets and cook the borscht for about 10 minutes.
Add onions and carrots.
Add kidney beans with their juice to the pot.
Then, add the bay leaves.
If necessary, pepper it.
Add squeezed garlic.
Remove the borscht from the heat and leave it for 15 minutes in the pot.
Afterwards, pour the borscht onto plates.
Add sour cream.
Sprinkle it with chopped dill.
Information and pictures are taken from: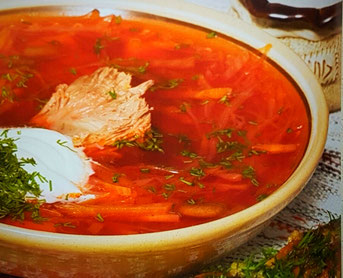 Did you like the Ukrainian Borscht?
Enjoy your meal!
                                       Live Stylish!
                                       Stay Healthy!
                                         Eat Organic!
                                          Be Natural!