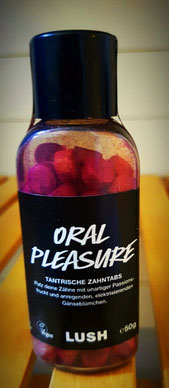 Frische, handgemachte Kosmetik von der Marke LUSH ist mit wertvollen Inhaltsstoffen hergestellt. Dazu werden meisten dieser Produkte in fester Form hergestellt, denn so sind sie selbstkonservierend und brauchen keine Verpackung. Das ist auch besser für die Umwelt. 
Das Sortiment von LUSH ist sehr vielfältig und umfasst zum Beispiel:
Körper (Badebomben, Öl- und Schaumbäder, Seife, Duschgel, Füsse, Hände, Sonnenschutz, Körperpeeling etc.)
Haar (Haarkuren, Shampoo, Conditioner, Styling, Haaröle etc.)
Gesicht (Gesichtsreiniger, Creme, Serum, Augencreme, Masken, Lippenbalsam, Rasiercreme etc.)
Zähne (feste Mundspülung, Toothy Tabs, Zahnputzpulver)
Make Up (Mascara, Lippenstift, Eyelinert etc.)
Parfum.
Toothy Tabs als eine feste Zahnpasta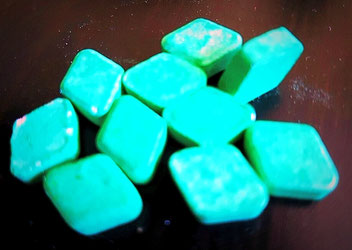 Heute möchte ich feste Alternativen von LUSH zu Zahnpasta und Mundwasser (feste Mundspülung, Toothy Tabs, Zahnputzpulver) vorstellen, die voll mit ätherischen Ölen und Gewürzen befüllt sind und die für frischen Atem und ein strahlendes Lächeln sorgen.
Wenn man die Mundhygiene beispielsweise nach dem Mittagessen im Büro wieder auffrischen will, oder wenn man die Toothy Tabs als Handgepäck ins Flugzeug mitnehmen will, dann sind neue    Zahnpflege-Produkte eine handliche und einfache Lösung. Einfach in die Tasche werfen, bevor Sie das Haus verlassen. 
Damit der Mund immer glücklich bleibt, stecken Inhaltsstoffe wie Sodium Bicarbonate in den Zahnpflege-Produkten. Mit seinen bindenden Eigenschaften ist es ein ausgesprochen wirksamer Allrounder. 
Jedes Toothy Tab reicht genau für einmal Putzen, deshalb ist es so ein Kinderspiel, die richtige Menge herauszufinden. Wie wird die feste Zahnpasta benutzt? Einfach ein Tab im Mund zerkauen und dann wie gewohnt mit der Zahnbürste putzen, anschließend ausspülen und lächeln. Dabei kann man verschiedene Geschmacksarten auswählen: Limelight, Miles of smiles, Sparkle, Boom, Bling und viele andere.
Wenn du ein Zahnputzpulver verwendest, mach einfach deine Zahnbürste leicht feucht und tunke sie in das Pulver. 
Feste Mundspülung (Mouthwash Tabs)
Eine feste Mundspülung, die auf der Zungenspitze wie eine erfrischende und aromatisierende, winzige Badebombe lossprudelt... Gibt es so etwas? Ja!
Was bedeuten Mouthwash Tabs?
Sie sind keine Flüssigkeit sondern kleine Tabletten angefüllt mit Zutaten, die sich im Mund auflösen und für leckeren, frischen Atem sorgen. Die Verwendung einer Mundspülung sollte der letzte Schritt der Mundhygiene sein, sowohl morgens, als auch abends. Man soll ein Mouthwash Tab ergänzend zum Zähneputzen und dem Gebrauch von Zahnseide verwenden.
Es gibt bei Lush drei verschiedene Mouthwash Tabs mit einigen unterschiedlichen Effekten. Beispielsweise ist Pan Galactic Gargle Blaster  voller Zitronenöl für intergalaktische Frische im Gaumen, sowie Chinin, welches für den gleichen köstlichen Geschmack wie in Tonic Water sorgt.  Crème De Menthe verschafft einen doppelten Shot Minze für berauschende, eiskalte Frische.

Probieren Sie die Produkte von LUSH! 
Würden die feste Zahnpasta und feste Mundspülung Ihnen gefallen?
Wo würden Sie sie verwenden: im Büro oder während einer Wanderung in den Bergen?
                                                                        Live Stylish!
                        Stay Healthy!
                          Eat Organic!
                           Be Natural!