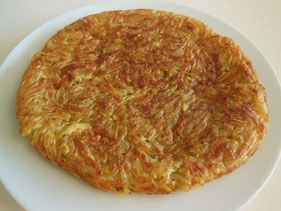 This Swiss Potato Rosti / Rösti is in general a potato pancake consisting mainly of potatoes. It was originally a breakfast dish, commonly eaten by farmers in the canton of Bern, but it is now eaten all over Switzerland and around the world.
It takes only 30 mins to prepare and to cook in total. Leftovers can be stored in a fridge and reheated when needed. Store up to 2 days.
Which potatoes to choose: floury or waxy?
The answer to this question cannot be definite and clear. Some chefs specify floury, others go with waxy.
This potato dish is traditionally made with boiled potatoes which are grated and fried. This dish can be also made with either cooked or raw potatoes. But if cooked ones are used, they must be cooled overnight so they become firm for grating.
The floury versions are deliciously fluffy and well browned. But when parboiled, then the dish is like a mashed potato cake rather than the Rosti. The individual strands of waxy potatoes, meanwhile, retain their shape better once made into a cake, and the finished Rosti has a more crunchy texture, even when made from parboiled potatoes, which sets them apart from ordinary potato cakes.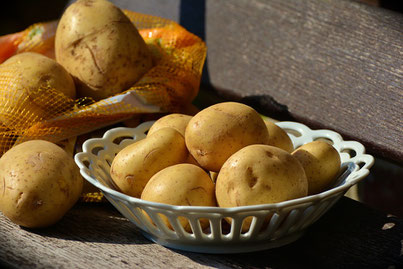 Ingredients for 4 people:
1.2 kg boiled potatoes
2 tablespoon oil
4 tablespoon butter
300 g spring onion
150 g cheese Boursin Poivre Noir
150 g bacon
4 eggs
salt 
pepper
Preparation:
1. Peel the potatoes.
2. Grate them.
3. Season the potatoes with the salt, pepper and finely chopped onion.
4. Add the bakon cut into cubes.
5. Mix the mass.
6. Heat the pan with oil.
7. Add the potatoes and fry them for about 10 mins on a midium heat.
8. Turn the Rosti over.
9. Add the butter in flakes.
10. Fry the mixture next 10 mins.
11. Crumble the cheese Boursin Poivre Noir over it.
12. Fry the eggs in another pan.
13. Put them over the Rosti.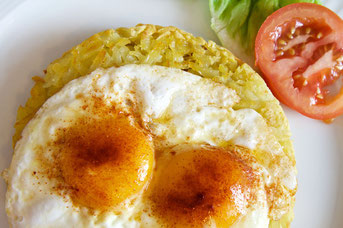 Rostis are more commonly served as a side dish to accompany other dishes such as a spinach with fried eggs, cervelats (Swiss scalded sausage), meat cheese or Zurich-Style Veal Strips in Cream Sauce.
If served with the Zurich-Style Veal Strips in Cream Sauce, then the Rosti should be smaller and portioned, at least three Rostis a person. Look at the picture below.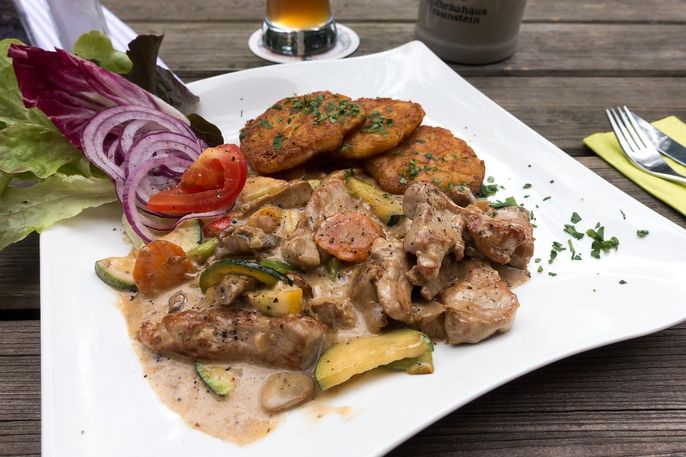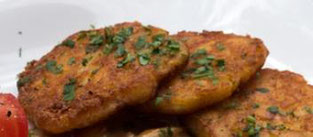 Let's try the Swiss Potato Rosti!
                    Enjoy your meal!
                                       Live Stylish!
                                       Stay Healthy!
                                         Eat Organic!
                                          Be Natural!