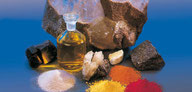 Adolf Wilhelm KEIM established this company in 1878 with the invention of silicate technology. Today, the company is the leading specialist for mineral structural protection globally, due to its sustainable solutions.
KEIM offers the most durable, purely mineral-based paints and system solutions for facades and interior spaces. The mission of the company says: "We make the best paint in the world" .
Exteriors
Are you looking for a valuable, thick-layered ETIC System with a focus on durability and robustness? If so, the paint systems of KEIM is the right decision for you. 
Safety in construction
Thick-layered and robust mineral-render system
Durable silicate coatings
Fully-developed, mutually-adapted system components
Suitable for a wide variety of applications
EPS 032/034 – very inflammable for buildings up to 22 metres in height MW 035/036/040/041 – not flammable for buildings up to 100 metres in height .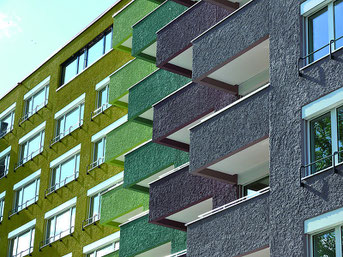 Whether smoothed, structured, filled, floated, processed with a roller and stencil, or washed-out using the brush. Coloured with pigments or with various types of grains. Renders make many different design options possible.
After years of smooth renders being the status quo among builders and architects, KEIM is currently experiencing the renaissance of coarsely structured render surfaces that are processed using trowel, float, putty knife, brush or broom.
To ensure that the desired result is achieved, in-depth knowledge and skilled craftsmanship are required in order to carry out the processing techniques.
Interiors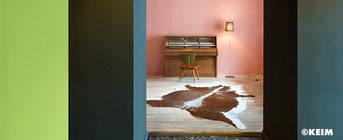 Healthy room climate is achieved by using mineral paints. Paints of KEIM are alkaline, which means that mould can find no source of nutrients to grow. Humidity does not accumulate on the surface; it can instead be absorbed and emitted by the paint coat on the wall. This means that walls painted with paints of KEIM   can continue to "breathe", and remain dry. This is important for a healthy room climate, and is an essential factor for preventing mould. The high pH-value that is typical for silicate also has a mould-inhibiting effect. This means that the surface is devoid of all preconditions for mould growth – and without the addition of toxic biocides or fungicides. This is a massive advantage, particularly for more sensitive persons such as children and allergy sufferers.
Also non-toxic santising can be achieved with "KEIM Mycal". Because the mineral mould sanitation system KEIM Mycal works completely without toxic chemicals and gives mould the cold shoulder. It consists of sustainable and non-toxic product components that present no health risks, and can be combined and adapted individually for each renovation. The Mycal system is open to diffusion, regulates moisture and ensures that walls stay dry. It creates an alkaline depot and offers mould fungi no nutrient base. And not only that, the interior KEIM Mycal-Top paint has both a disinfecting and mould-inhibiting effect thanks to the anti-microbially acting mineral. Photocatalytical pigments can reduce harmful substances and create additional protection. Please note: mould over large surface areas should be examined and removed by a professional.   
Reference projects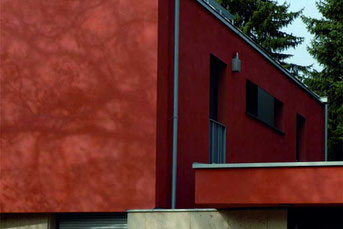 Enjoy your healthy exteriors and interiors
          with KEIM - paint systems!
                                       Live Stylish!
                                       Stay Healthy!
                                         Eat Organic!
                                          Be Natural!