On the sacred Sunday of Christ, the entire Christian world enjoys feasts and divine services. Easter symbolizes resurrection of Jesus Christ, and in a broader sense - spring, renewal and beginning of a new life. Each person associates with this holiday interesting traditions including culinary features of the festive table. The main symbol of Easter is Easter baking. Every country has its own traditions of celebrating Easter. If you celebrate it, and you will be at this time somewhere abroad, then it would be useful for you to find out what customs are there by inhabitants of other countries.
Poland

Easter is celebrated here for two days. The whole family gathers at the table, and the meal begins with a prayer. Easter breakfast consists of consecrated Easter eggs, horseradish, meat and sausages. It is also customary to bake a "Baba". The "Baba" is baked of sweet yeast dough in the huge form, and its filling can be very diverse - from marzipan to chocolate.
Italy

Colomba Pasquale is a traditional Italian Easter cake. You are unlikely to find two identical Colomba Pasquale. Each of them has its own recipe. This high dryish pie is made from yeast dough with the addition of grated orange peel, candied fruits or raisins. It can be baked in the form of a dove (literal translation of the Italian name - "Easter Pigeon") and be sprinkled with pieces of almonds and sugar. It turns out a sweet symbol of peace and resurrection.
Spain

In Catalonia, whose population aspires for everything in oder to be different from the rest of Spain, the Easter cake is called Mona de Pasqua. This cake is made up of almonds and chocolate and it is decorated generously with Easter eggs, chocolate hares and even toy chicks.
Germany
In addition to the painted Easter eggs, the Germans have other symbols of this holiday. For example, there is an Easter rabbit, which is believed, bringing the children coloured eggs. There is also one more symbol - the Easter tree, decorated with eggs. 
Bulgaria/Russian/Ukraine
Easter traditions in Bulgaria are not so different from Ukrainian and Russian ones. A large number of coloured eggs are spread around a great Easter bread. People "clink glasses" with Easter eggs until one breaks. The luckiest is that one who has the whole Easter egg for the longest time.
Australia
Easter is celebrated here in nature. It is believed that on this holiday the air becomes clean, and the water in springs acquires properties similar to the holy water. The main festive dish is a roast lamb or chicken, and it is customary to eat a meringue cake decorated with fruit. Like the Germans, the Australians prepare chocolate eggs for Easter. The most popular are eggs in the form of the Easter rabbit and bilby. Additionally, a festival of large balloons in the form of Easter eggs is held annually.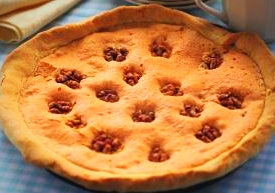 Merry Easter!
Enjoy your festive meal and Easter cakes!
Live Stylish!
 Stay Healthy!
                                 Eat Organic!
                                  Be Natural!