Recipes of some Appetizers...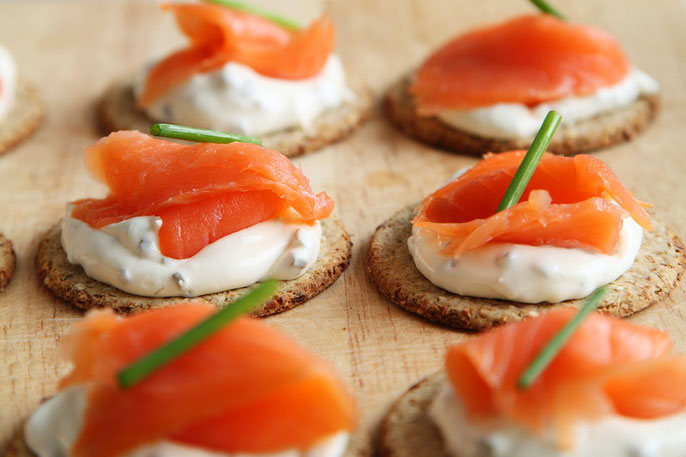 Salmon with bread
Ingredients
8-10 slices black bread
80-100 g smoked salmon
1-2 pen green onions
Crème fraîche
1 spring fresh dill 
olive oil
Directions
1 Dry bread in an oven at 150 degrees for 15 minutes.
2 Mix Crème fraîche with finely chopped dill.
3 Smear olive oil on slices of bread.
4 Slice thin salmon.
5 Smear the bread with Crème fraîche.
6 Lay stripes of salmon over it.
7 Decorate everything with green onions.
Brunet with Mortadella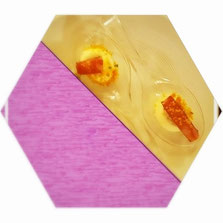 Ingredients
Brunet, the goat's milk cheese from Italy
Mortadella, Italian sausage
Grated walnuts
Directions
1 Put Brunet onto a transparent disposable teaspoon.
2 Strew the cheese with grated wulnuts.
3 Put over a slice of Mortadella.
Blue mouldy cheese with a fruit plate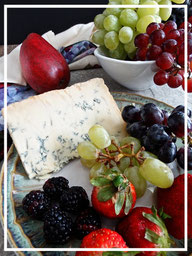 Blue mouldy cheese can be serves with a fruit plate.
Ingredients
Blue mouldy cheese
green grapes
red grapes
blackberries
strawberries
Directions
Put all the ingredients onto a plate as shown in the picture.
Bruschetta with tomato and basil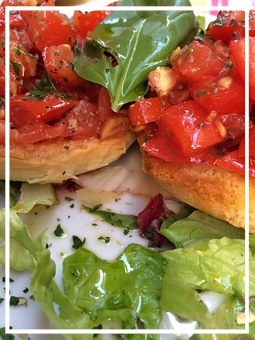 Ingredients
4 slices ciabatta loaf
2 pcs tomatoes
2 cloves garlic
2-3 sprigs green basil
3 tablespoons olive oil
salt
pinch sugar, to taste
freshly ground peppern
Directions
1 Cut ciabatta into slices in a diagonal direction.
2 Heat 1 tablespoon of olive oil in a pan.
3 Put ciabatta slices over and fry them on both sides until golden brown.
4 Then, rub the ciabatta slices with garlic.
5 Wash, dry and cut tomatoes into small cubes.
6 Put the tomatoes in a bowl, add the garlic, basil, salt to taste, freshly ground pepper.
7 Mix all and season it with olive oil.
8 Put this tomato mixture onto the bread slices.
9 Drizzle them with olive oil.
10 Serve bruschetta immediately until it remains crispy.
Fruit spits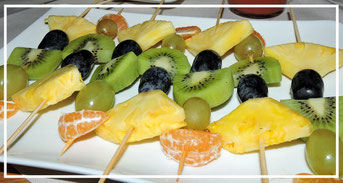 Ingredients
spits
red grapes
green grapes
pine apple 
kiwis
tangerines
Directions
1 Peel a pine aplle, tangerines and kiwis.
2 Cut a pine apple in a triangular shape.
3 Hibernate kiwis and slice them.
4 Separate the slices of tangerines.
5 Put all the fruits on to the spits as shown in the picture.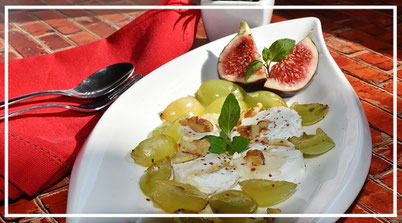 Do you like these recipes of quick Appetizers?
Enjoy you meal!
Live Stylish!
 Stay Healthy!
                     Eat Organic!
                      Be Natural!