A guy goes into a bar in Dublin. He orders a beer and begings talking to a fellow next to him:
- "Are you from around here?"
- "Yes, I was born on Donegal Street."
- "That's interesting. I was also born on Donegal Street. When were you born?"
- "In February 1945."
- "What a coincidence, I was born in 1945. Where did you go to school?"
- "At St. Mary's."
- "Glory be, I went there too. When did you graduate?"
- "In 1963."
- "Wow, what a coincidence!"
A third guy is watching this whole exchange and exclaims to the bartender:
- "That's amazing!"
The bartender replies:
- "No, it happens every time the Galligan twins get drunk!"
The joke is taken from "World and press", March 1, 2017.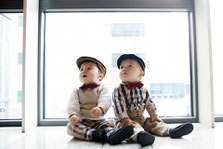 Yes, I'm kidding!
Enyou the joke!
And....
 Live Stylish!
Stay Healthy!
  Eat Organic!                           
   Be Natural!