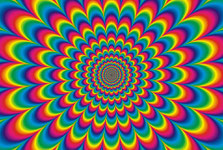 Dieser Artikel ist in Anknüpfung an meinen Beitrag "A short trip through the world of Psychedelic Music" verfasst.
Allerdings kann man zugeben, dass die Mode und psychedelische Erfahrung eng zusammen hängen, da eine der Auswirkungen des LSD eine erhöhte Betonung von Farbe, Textur und Linie hat. 
Psychedelische Mode war eine Quintessenz in der 1960er-Bewegung, obwohl sie schließlich ziemlich opportunistisch von nahezu jedem Mainstream-Designer der Modebranche war. Psychedelische Sensibilität wurde besonders in der zweiten Hälfte der 1960er Jahre wichtig. Zu der Zeit zeichnete sie sich durch die Phantasmagorie aus. Psychedelika konvergierte mit gesprenkelten Mustern aus afrikanischen und indonesischen Stoffen.
Geometrie, bunte Farben, psychedelische Muster, Stoffe mit Glitter, Polyester, Nylon sind die Hauptmerkmale der psychedelischen Kleidung. 

Psychedelische Mode bleibt auch heute aktuell und beliebt. Besonders bildliche Tricks mit dem psychedelischen Charakter können Nachteile der Figur verstecken sowie Vorteile betonen.
Das feine Muster ist sehr gut für Frauen mit großen Formen geeignet. Das massive und große Muster steht den schlanken Frauen.
Es ist daher kein Wunder, dass die psychedelischen Muster auch von solchen renommierten Modehäusern wie Valentino und Dolce & Gabbana verwendet werden.
Psychedelika impliziert Phantasie und kreatives Denken. Heutzutage ist auch Total Look sehr aktuell geworden. Wichtig bleiben möglichst wenig  Accessoires und gesättigte Farbtöne. Make-up soll besonders Augen und Lippen in dunklen Farbtönen hervorheben. Die beste Option für die Haare ist ungewöhnliche Abstraktion.
Die Mode Kollektion von Laurence & Chico hob die Züge der psychedelischen Mode im Palazzo Morando während der Mailänder Modewoche 2016 besonders deutlich hervor. Sie boten Explosionen von bunten Farben, die durch glänzende Seide, kühne Paarungen und fast psychedelische Muster verstärkt wirken. Ihre Verwendung von dekorativen Elementen, wie zum Beispiel Neon, Kunstpelz, Capes und riesige Pom-Pom Hüte oder Taschen trugen zur Gesamtstärke der Kollektion bei.
Oder bestellen Sie sich psychedelische Bekleidung bei Etsy...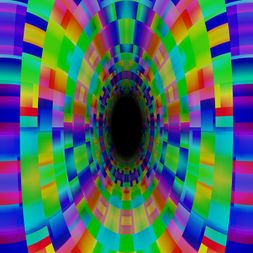 Probieren Sie psychedelische Kleidung an!
Genießen Sie sie!
                        Live Stylish!
                        Stay Healthy!
                          Eat Organic!
                           Be Natural!