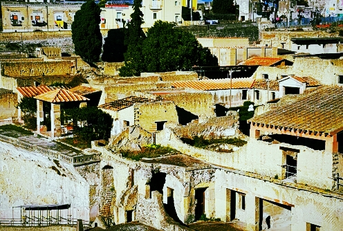 Herculaneum (Italian: Ercolano) is located close to the volcano Vesuvius. It was an ancient Roman town destroyed by volcanic pyroclastic flows in 79 AD. Herculaneum was buried along with Pompeii, Stabiae, Oplontis and Boscoreale. After excavations you can visit the ruins in the commune of Ercolano, Campania, Italy. However, only 30% of Herculaneum is excavated.
Which excavation site is the most interesting and beautiful to visit? 
Pompeii or Herculaneum? 
This question cannot be answered as a whole, because the atmosphere of the two excavations is different. While the small town Herculaneum invites you to experience the everyday life of the inhabitants, the larger Pompeii impresses with a completely preserved city structure with temples, theaters, spas and brothels.
While ashes were raining in Pompeii, 400 to 500 degrees of boiling lava poured substantially in Herculaneum which carbonized organic material. Due to this charred wood furniture, peas food, grains and even papyrus with numerous names of the inhabitants of the town were found in Herculaneum. All these are important references to eating habits, living conditions and social structures of the Romans. Such testimonies are largely lacking in Pompeii.
In contrast to Pompeii, where casts resembling the body features of the victims, the shapes of corpses in Herculaneum could not be preserved due to the rapid vaporization and replacement of the flesh of the victims by the hot ash (ca. 500 °C). But visitors can see skeletons here. On the whole, 55 skeletons (30 adult males, 13 adult females and 12 children) were found in the town.
Pompeii is a huge open-air museum
The excavations of Pompeii show a completely preserved prosperous city. It impresses with many wonderful houses with wall paintings, frescos, shops with pizza ovens and long streets. Some of the most important finds were brought to the National Archaeological Museum in Naples.
Antique atmosphere in Herculaneum
Romantics prefer the very well-preserved Herculaneum, where you can still feel the atmosphere of that time. The town was wealthier than Pompeii possessing an extraordinary density of fine houses with, for example, far more lavish use of coloured marble cladding.
Herculaneum is much better preserved and it is placed in a narrower space than Pompei. There are 47 excavated buildings preserved by the Vesuvius eruption. You can get the compressed information about buildings and work in the terrain with the audioguide.
Some of the remained frescos, wall paintings and tiles...
I would suggest that you take a one-day trip to Herculaneum. If you travel from abroad to Italy, then Naples would be your first stop. From there you can go by train to the town Ercolano where ruins of Herculaneum are.
Additionally, various restaurants and cafes in Ercolano invite visitors to enjoy famous Italian cuisine...
... delicious desserts...
...and very tasty ice cream...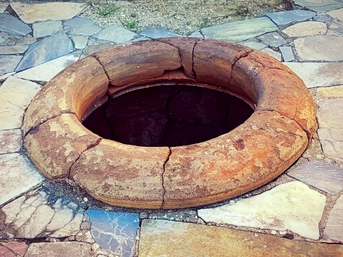 Enjoy your stay in Ercolano!
Get to know the ancient Roman culture!
                                       Live Stylish!
                                       Stay Healthy!
                                         Eat Organic!
                                          Be Natural!