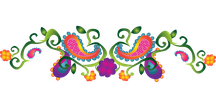 PSYCHEDELIC comes from the Ancient Greek "psyche" -  soul and "delos" - clear. The term emerged in 1956 from a correspondence of the psychiatrist Humphry Osmond with the writer Aldous Huxley. "Psychedelic" means a stylistic feature which was developed in western youth counterculture of the mid-20th century. It influenced the fashion and decorative design by its bright colour and intricate ornaments. 
In fact, PSYCHEDELIA is a range of hallucinations induced by chemical stimulants like LSD, psilocybin mushrooms, mescaline and DMT which heighten visual, audible and kinesthetic feelings. It seems to be not only a key component of sensibility but also a symbol of the 1960s with reordering of social, political and artistic structures. This is characterized by partial or complete elimination of the boundaries between the self and the outside world, as well as the temporary transcendence of everyday consciousness and everyday experience.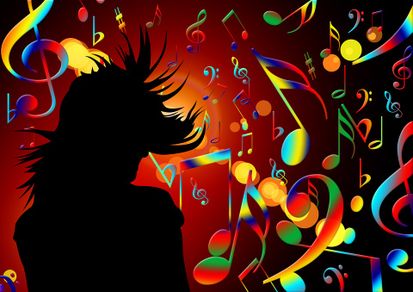 Psychedelic music is a common name of the music that has a direct bearing on psychedelia.
The pioneers of the modern psychedelic music are considered to be such groups and artists as Grateful Dead, Jefferson Airplane, Pink Floyd, The Doors, Sun Dial and many other groups associated with the hippie subculture. Such projects are usually attributed to the genre of psychedelic rock. The genre became much more diversified with the spread of electronic music.
For example, psychedelic trance originated from the core culture of Goa trance in the
mid-1990s. Typical representatives are Israeli projects like Infected Mushroom and Astrix.
Later a genre of psychedelic ambient music (or psybient) was developed. Its typical representatives are Shpongle, Bluetech, Shulman, Entheogenic and others.
On the whole, psychedelic music includes psychedelic rock, psychedelic trance, psychedelic ambient, psychedelic folk, psychedelic pop and psychedelic soul. Afterwards, 
psychedelic music influenced many other new musical genres like progressive rock, space music, electronic rock, jazz rock, heavy metal, glam rock, funk, electro and bubblegum pop.
Psychedelic hip hop, acid house, trance music and new rave were emerged in different forms of neo-psychedelia from the 1980s.
EXAMPLES
Example 1: Psychedelic Rock
An essential feature of psychedelic rock is a generation of unusual and novel sounds, as well as experimental handling of song structures, which were once more simple.
Many religions from the Far East and also associated themes of the expansion of consciousness had a great impact on the texts. Everything got a surreal and esoteric touch. Furthermore, there was a direct impact from the literature of the Beatniks and the science fiction as well as the fantasy literature. Additionally, experience from the consumption of drugs was also present in the texts. 
In summary, we can say that psychedelic rock changed the music world a lot. New things arose, which had previously been considered as risky or even impossible. String instruments were used there for the first time, which were not assigned to the rock before. Exotic instruments such as the Sitar, Tablas, Mellotron and the first synthesizers are also present in the psychedelic rock.
Example 2: Psychedelic Trance
Psychedelic trance (or psy trance) is a form of trance music, developed in the late 1990's. Trance has a fast beat in the range of 125 to 150 beats per minute. It has a strong bass sound that beats continuously without change and is overlaid by many other rhythms. Among popular artists are Astral Projection, Space Tribe, Infected Mushroom, Atmos, Total Eclipse, Cosmosis and Simon Posford.
You can notice the difference between psy trance and other styles on the example of psy trance remix of Moonlight Sonata by Beethoven.
Example 3: Goa Trance
Goa trance is a form of electronic music and is a style of trance music which originated in the Indian region of Goa. The music has its roots in the popularity of the Goa region in the late 1960's and early 1970's. The Goa trance flew into psychedelic trance during the latter half of the 1990's. In general, Goa tracks are 8-12 minutes long and have noticeably stronger bass sounds than other trance music.
Also visual aspects are strongly emphasized, especially fluorescent paint in clothing and decoration is important. The images are associated with aliens, Hinduism, mushrooms and shamanism.
What is the difference between Goa trance and Psy trance?
Goa trance is distinguished by oriental melodies laid onto each other. The Goa trance has rather simple rhythm structures. On the other hand, psy trance is deeper, more complex and more weird in terms of sound design.
Example 4: Psychedelic Classical Music
Which pieces of classical music could have a psychedelic touch?
Many classical music pieces could fall into the category of psychedelic music, especially pieces from the 20th century and later. First of all, it could be Stravinsky's Rite of Spring, also Szymanowski, Ravel, Debussy, Bartok, Berlioz' Symphonie Fantastique, Moonflight by Otto Luening, Pathetique mvt 2 by Beethoven and anything from Scriabin's of the middle or later period. 
Let's listen to Scriabin's Poème-Nocturne op 61.
Take your time and enjoy music you like!
                        Live Stylish!
                        Stay Healthy!
                          Eat Organic!
                           Be Natural!