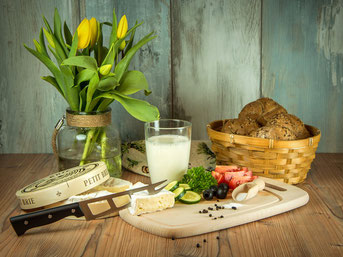 Lemkos' food is modest, mainly consisting of plant foods, flour products, potatoes, cabbage, beans and cereals. They ate four times a day.
Bread, milk, butter, cheese, salted cheese, potatoes and dumplings were mainly eaten for breakfast.
Various soups, flour products, potatoes and cabbage were served for lunch.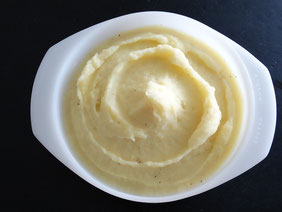 Cereal milk, cheese and butter were favourite snacks of Lemkos.
Dinner was light and mostly consisted of mashed potatoes with sour milk.
The most common dishes of Lemkos were porridge cooked with various herbal products, flour, millet (millet porridge), barley, corn.
Very popular dishes were made of dough. Especially popular were dumplings with cheese and salted cheese greased with butter, bacon and greaves.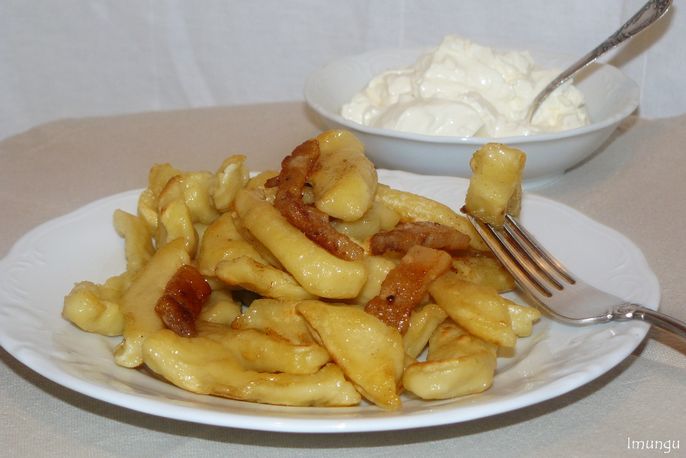 Another filled pies (dumplings) were made only on holidays. They were filled with cheese, cabbage, jam, plums, pears, blackberries, strawberries or cherries.
Potato dishes were quite common in the Lemkos' region. Due to this potatoes were daily consumed in different forms - boiled, baked, fried and also with cabbage, milk and dried fruit. 
For example, banduryanky is baked from raw grated potatoes. This flour is laid on a fresh cabbage leaf or on a maple leaf. Then, it has to be put into the oven.
Bandury is translated as a potato and, subsequently, the banduryanky means a potato pancake.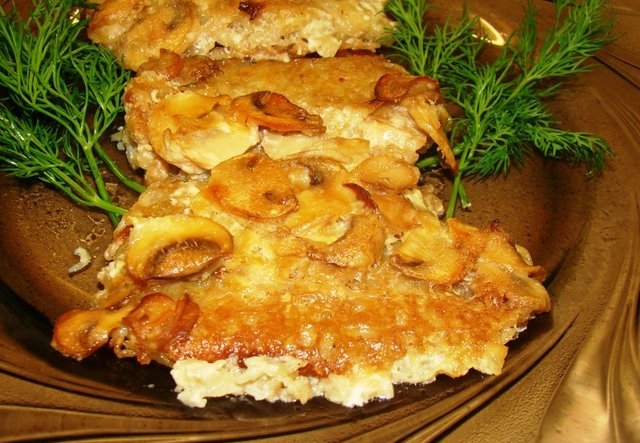 Kysylytsya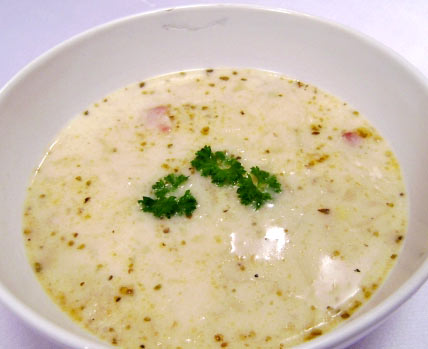 Kysylytsya is a traditional Lemkos' ceremonial soup with flour or oatmeal cereals.
It can be prepared from oat flour, rolled oats or oatmeal.
Ingredients for 3-3.5 liters of kysylytsya:
0.5 liters an oatmeal product
25 g yeast
1 piece black bread
2-2.5 liters water
1-2 teaspoons cumin
Preparation:
1 Pour it all in one liter of warm water.
2 Cover it and place the soup in a warm place for 24 hours.
3 Squeeze it through cheesecloth.
4 Pour another 2-2.5 liters water.
5 Add 1-2 teaspoons cumin.
6 Then cook stirring in order not to let it burn.
7 When Kysylytsya is boiling, add the onion (you can pre-fry it in vegetable oil).
8 Add also garlic and season with salt to taste.
9 In the end, add a bay leaf, pepper, linen oil.
You can serve and eat Kysylytsya with potatoes, bread and boiled beans.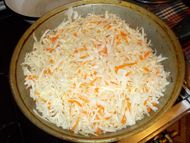 Similarly, Lemkos ate cabbage in large quantities. Preserved cabbage was stored in 100-300 liters barrels. Each family harvested in winter at least a few barrels of cabbage.
Meat was consumed only on holiday and on ceremonial occasions. 
Cow's and sheep's milk also belonged to the main food of Lemkos. 
Products of fishery, hunting and gathering were not essential for the food. Lemkos gathered mushrooms and berries. Afterwards, they dried them for winter.
Purchased products accounted for a small proportion of food. These were salt, sugar, spices (bay leaf, saffron) and alcoholic beverages. With the development of capitalist relations wealthy farmers bought rice, tea and coffee.
Recipe of Lemkos' cuisine
Pork baked in bread crumbs, spices and cherry jam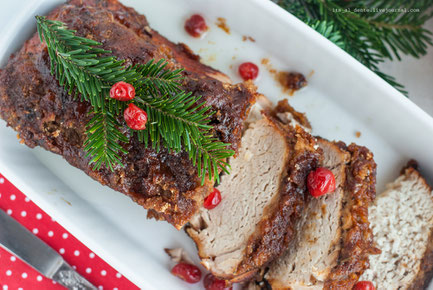 Ingredients:
1.5-2 kg pork 
300g cherry jam
200g bread crumbs
100 ml dry red wine 
1 teaspoon of spices:
marjoram
basilica
rosemary
cinnamon
nutmeg
black pepper
                                                                                                      Foil for baking  
Preparation:
1. Put cherry jam in a bowl. If the jam is too thick, dilute it with little wine (so that it is convenient to cover the meat).
2. Add all spices. Stir it.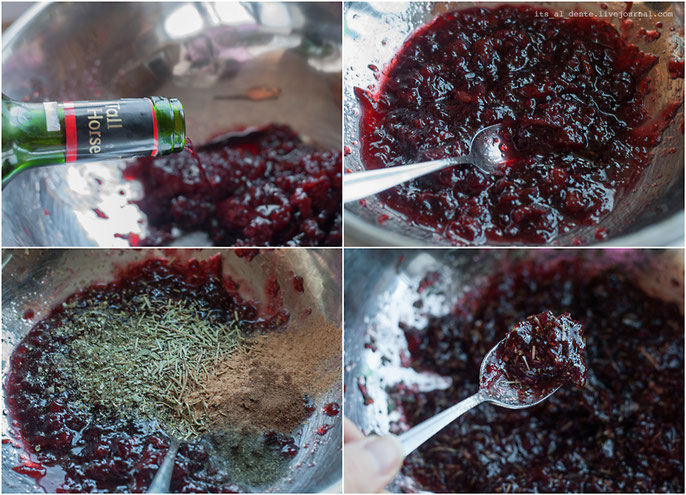 3. Prick pork with a knife all around.
4. Daub it from all sides with salt, pepper and jam.
5. Leave the meat for a few hours in a cool place.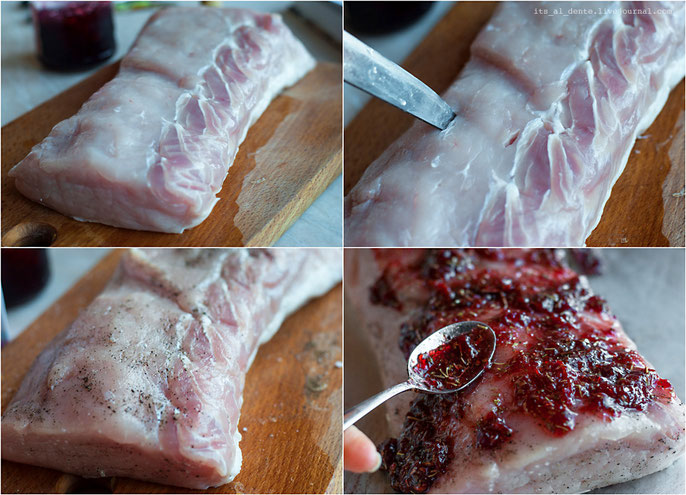 6. Envelop the meat in bread crumbs in order to form a thick "crust" of jam.
7. Wrap it in foil.
8. Put the dish in a preheated oven at 190 degrees for about half an hour.
9. Unwrap the foil about ten minutes before taking out in order to let evaporate excess liquid and form a golden crust.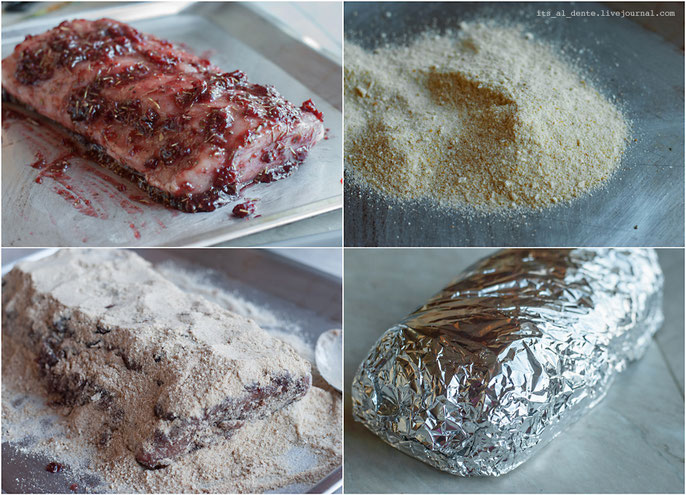 10. Serve the dish with the sauce from the remaining cherry jam and decorate it with dried cherries.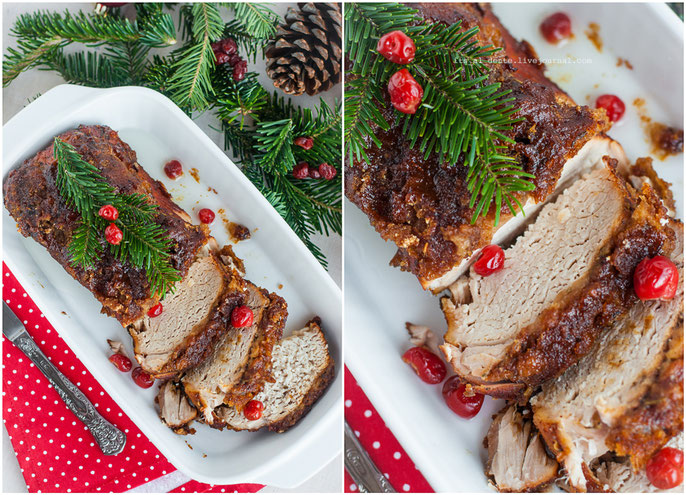 Let's try the Lemkos' traditional cuisine!
Enjoy their dishes!
                                       Live Stylish!
                                       Stay Healthy!
                                         Eat Organic!
                                          Be Natural!