Buying a set of bed linen, the first thing to do is to forget all the advice and tips and give vent to your feelings instead. The choice of bed linen is very private and even very intimate. But when it comes to bedding, there is really only one thing that matters - coziness. 
Some of us appreciate coolness of silk and only those sheets enable to feel the most cozy and comfortable. The others feel like soft warm flannel or terry. The another people wish to relax on the perfect white sheets or prefer a pleasant plunge into the bright saturated colours. Therefore, all terms of colour and texture of the fabric is very personal. And only the main point of what you wish can help you to find a suitable quality.
Which fabric is the best suited for bed linen?
To answer this question it would be better to pay attention to the natural fabrics and their natural properties.
They are truly environmentally friendly providing favorable conditions for the human body. The best for bedding sets are considered to be cotton, linen and silk. All other fabrics such as satin or calico, batiste and others are already derived from woven variations of natural cotton fibers.
COTTON
Cotton is a traditional material for sewing of bedding. This material with unique natural properties has a beneficial effect on the skin and in general on the entire human body. Thanks to its "breathing" properties, it eliminates the greenhouse effect, and thus in the hot cotton linens you will feel cool. High hygroscopicity of cotton fabric provides a comfortable sleep and removes excess of moisture. If you are in need of some truly beautiful and excellent bedding, King of Cotton is the perfect choice.
Information and pictures are taken from: https://www.kingofcotton.com
SILK
Silk bed linen is considered as an expensive product of elite class but it's worth it. Silk is naturally hypoallergenic, helps regulate body temperature and is renowned for its health benefits for the skin and hair. For example, Gingerlily's luxury bed linens are wonderfully soft and seamless. They are also made from the finest 'A' grade mulberry silk. These silk bed linens adjust to the individual's body temperature to keep you cool in summer and warm in winter.
Information and pictures are taken from: https://www.gingerlily.co.uk
LINEN
Linen fabric is valued worldwide. This fabric cools down in the heat and warms at low temperatures during the cold season. In this connection I would like to mention luxury bed linens of the brand LinenMe made from a natural linen fabric. It is remarkable that the manufacturing of these bed linens combines longstanding traditions of weaving and decorating linens with modern technology. Many of these products are also handmade. This allows to create a highly robust, durable and well-worn fabric, which fits the body and remains very soft.
Information and pictures are taken from: https://www.linenme.com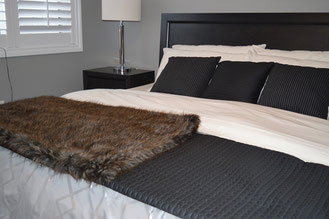 Enjoy your sleeping in a luxury bedding made of cotton, silk or linen fabric!
                                      Live Stylish!
                                     Stay Healthy!
                                       Eat Organic!
                                        Be Natural!