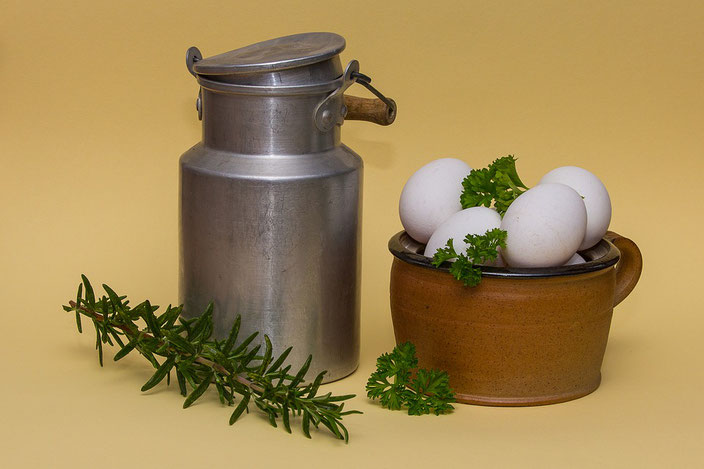 Do you have breakfast at all? Or do you have only a few cups of coffee or tea?
Why is healthy, natural breakfast so important?
The healthy, natural breakfast has several functions. It starts metabolism and digestive system. The breakfast should start the process of cleansing the body. This is immediately reflected on the state of your skin - it will become more clean and fresh. If you include in your diet the right natural breakfast, you will avoid many of the problems associated with the digestive tract.
Some national differences
Breakfast differs in each culture immensely. For example, English breakfast has not been changed for centuries. It must consist of seven dishes: tomatoes, white beans, grilled sausages, fried crispy bacon, fried eggs, fresh toast with butter, sometimes - mushrooms. And, of course, milk tea, coffee or juice.
French breakfast includes traditional pastries, pancakes, crepes, sandwiches and various baguette toasts. Italians prefer lighter breakfast, usually with fresh pastries and coffee, but also with the morning conversation and press preview. Cooking Italian breakfast at home will require you more time than usual. As we see, the possibilities are endless when it comes to making delicious organic meals for yourself and your family.
Here I would like to suggest you some recipes for your healthy, natural breakfast. Choosing a breakfast option, consider all the nuances of the coming day. If you can something snack in an hour or two, you can choose a salad, yoghurt or cottage cheese. But if you have a long working day, it is better to opt for scrambled eggs with vegetables. The recipe for scrambled eggs with vegetables is a little more complicated than simple scrambled eggs, but this dish is healthier and more nutritious.
Recipe: Scrambled Eggs & Vegetables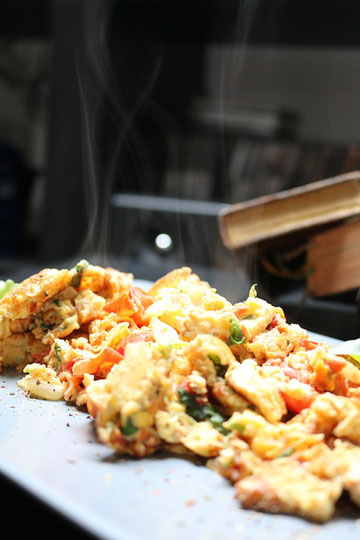 First of all, what is the difference between Organic, Cage-free, Free-Range, Conventional and Vegetarian Eggs?
Organic eggs are laid from hens living  cage-free. They don't receive vaccines and are fed on an organic feed without hormones, antibiotics and fertilizers for at least three years. Genetically engineered crop is not permitted.
Cage-free eggs are from hens that are not raised in cages, but in an open barn. It is used the bedding material such as pine shavings on the floor, and they are allowed perches and nest boxes to lay their eggs.
Free-range eggs are laid from hens that have the opportunity to go outside and to spend some time of the day roaming                                                                                         outdoors.
Vegetarian eggs are laid from hens that are only fed on a vegetarian diet -- free from meat or fish by-products. Hens are kept in cages or indoors and do not peck any grubs or worms.
Which eggs are more or less contaminated?
To answer this question is very difficult. For example, according to the 2012 Stanford review there are no significant differences affecting health between organic and conventional eggs.
And now let's get back to the recipe of scrambled eggs with vegetables.
Ingredients:
50 g green beans
1 piece pepper
3 eggs
1 onion
50 g cheese Parmesan
20 g butter
salt
Preparation:
Chop all the vegetables in small pieces and fry them. Add salt and pepper. Pour the scrambled eggs into the pan and fry altogether at the medium heat for 7 minutes. Sprinkle with the grated cheese and leave everything for 2 minutes on the fire.
Why use exceptionally this recipe? Let's have a look at the proposed vegetables….
Green beans. They are full of vitamin B, copper, potassium and zinc. These vegetables lower blood sugar, soothe the nervous system, remove kidney stones. They make also a beneficial effect on male potency and are useful for teeth.
Onion. Its structure includes a lot of minerals and vitamins. Eating onion you can avoid colds and various infectious diseases. Onion also strengthens the immune system.
Pepper contains vitamin C and beta-carotene, potassium, copper, selenium and zinc. It helps to overcome insomnia, stress and memory disorders. Pepper strengthens capillaries and contributes to their elasticity.
Salad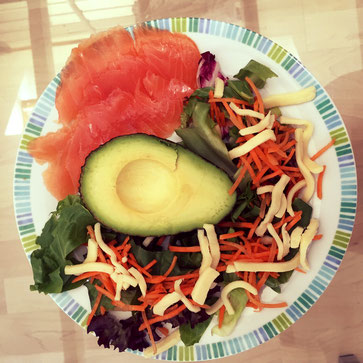 If you do not like to eat scrambled eggs in the morning, you can switch to a light, simple salad. Simple recipes of salad mean a minimum of ingredients and very little time to prepare.
Let's take the simplest products - those that can be bought everywhere. The simplest variants of combination are a carrot, apple and lettuce; fillet of poultry, fresh herbs, olive oil, vinegar and so on. The fewer ingredients are in a salad, the greater is the probability that its taste will carefully complement. I                                                                               suggest to use not more than five ingredients.
For your natural salad you can take:
200 g salmon, smoked or salted
1 avocado
100 g

lettuce (leaf)

1 red onion (small chive)

½ pieces lemon

6 tbsp. olive oil

1/3 carrot

50 g cheese, grated

1 tbsp. mustard

pepper

salt
By the way, which salmon is organic and healthy and which not? Usually, the farmed salmon is being labeled as "organic". In fact, there is not much difference between the conventional  farm-raised salmon and the organic farm-raised salmon. Both are raised in cages. Organic cages contain up to 30,000 fish. Conventional salmon cages contain up to 70,000 fish. In addition, organic farmers use the same chemicals as conventional farmers. Organic salmon is slaughtered at 2.5 years old, whereas conventional salmon is slaughtered at 2 years old. Wild salmon can live for up to 16 years.
Conclusion: I would recommend the Scottish and Irish wild salmon regardless of their expensiveness and the wild salmon from Alaska certified by the Maine Stewardship Council.
The other ingredient of a salad is an avocado. Useful properties of avocado are huge. Avocado improves memory, reduces the risk of cardio - vascular diseases. Potassium contained in an avocado, promotes the proper operation of the heart, leads to normal water-salt metabolism in the body and increases the resistance to stress. Avocado is recommended for people with high blood pressure.
Oatmeal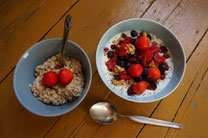 If you remain traditional concerning your breakfast and you are dreaming of a perfect bowl of oatmeal, let's try it!
The oatmeal can be prepared in a number of ways at home. To cook an oatmeal is very easily.
Take:
200 ml water
3 tbsp. oat flakes
1 pinch salt
1 tbsp. milk.
Cook all at a low heat stirring.
Afterwards, you can add to the boiled oats honey, pumpkin seeds, nuts, dried fruit and fresh berries like strawberries, bilberry and raspberries. This is healthy as well as tasty. The health benefits of the oatmeal include a healthy heart, diabetes control, cancer prevention and increased immunity. It also helps in losing weight.
Tea or coffee?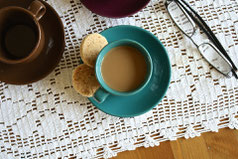 Who are you: tea-drinker or coffee-drinker?
What do you prefer - tea or coffee? Why?
Let's have a look at these drinks!
For instance, tea improves artery and reduces blood pressure. Green tea prevents from Alzheimer's disease and from the formation of kidney stones.
Drinking more than four cups of coffee a day reduces the risk of diabetes. Coffee also prevents from Parkinson's disease. Coffee drinkers less likely to suffer from liver cancer and colon cancer.
According to the Office of the Food and Drug Administration (US), anti-cancer effect of tea is poorly understood. In general, people who drink three cups of tea a day, have by 37% lower risk of depression than those who do not drink tea. Each cup of coffee drunk during the day reduces the risk of depression by about 8%.
Conclusion: If you have any heart problems or blood pressure problems, the coffee will only aggravate the situation. If the body is healthy and strong, the moderate consumption of coffee can bring significant benefits to him.
Classical Turkish coffee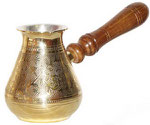 One of the healthy, natural coffee is Classical Turkish coffee. But for its preparation is a special vessel Turk needed.
First of all, fry coffee beans in a frying pan without oil. Then, grind them. In generally, you need for one portion 1 tbsp. of finely ground coffee,     50-60 ml of water and sugar to taste.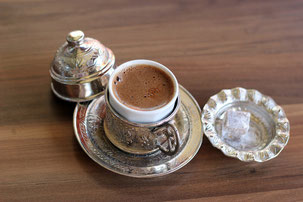 Pour the sugar, coffee and water in a Turk and put all on a very slow fire.
Remove it from the heat as soon as the foam rises to the top. Repeat this procedure several times, at least from 2 to 6 times.  
Sugar and spice cannot be put into the finished coffee, as this can damage the foam.                                                                   
Classical Turkish tea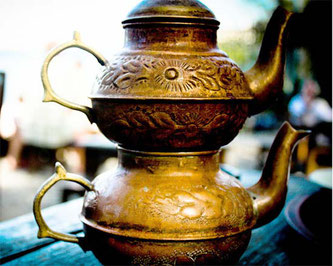 And what about a Classical Turkish tea?
To prepare the Turkish tea you should take an iron kettle for boiling soft purified water.
Then take a conventional porcelain teapot for brewing tea or the second iron kettle. Just pour the tea with boiling water.
Further, the first metal teapot should be put on the stove. Put the second iron pot on top of the first one and reduce the heat as much as possible.
The beverage is to be brewed at least fifteen minutes.
Do not just use an electric heater, because the liquid for Turkish tea should start boilng entirely.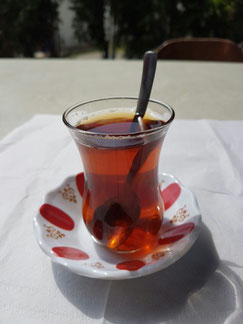 The Turkish tea is usually served in a strictly special glass, which is shaped like a tulip glass.
Such tea is usually served as hot as possible.
                 Does you breakfast taste good?
                              Enjoy you meal!
                         Live Stylish!
                        Stay Healthy!
                          Eat Organic!
                           Be Natural!